What is a children's dental crown and is there a difference between zirconia and stainless steel crowns?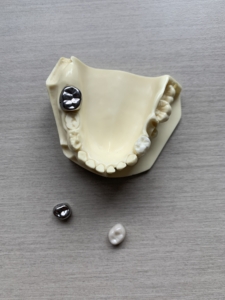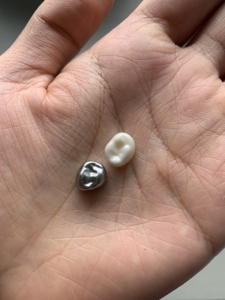 In paediatric dentistry we get a lot of questions regarding why crowns are recommended for baby teeth. Most parents understand the concept of a dental crown as they are often suggested on adult teeth. Children too may also need dental crowns depending on their dental needs.
What is a crown? 
A crown is essentially a strong cap used by dental professionals to repair and reinforce a tooth – think of it as similar to a helmet but for teeth.
Why are crowns recommended for baby teeth?
It is important to preserve baby teeth as they are essential in the development of children and they assist with adult teeth erupting in the right direction. The mentality of "it's just a baby tooth" is shifting nowadays with baby teeth seen as being important for growth, speech, nutrition and good health for life. Children really do need their teeth to be healthy.
When a large dental cavity develops, your child's dentist may recommend a crown. Crowns are shown to protect and reinforce teeth better, and can prevent dental work from being repeated on the same tooth (e.g. fillings breaking and falling apart, and therefore more dental visits). Crowns are recommended over large fillings, or when the baby tooth has broken.
They are also recommended for teeth that have not developed properly. The most common material choices for crowns in children are stainless steel and zirconia.
Is there a difference between stainless steel crowns and zirconia crowns in children?
In short – not a whole lot.
Nowadays zirconia crowns and stainless steel crowns are available for children. These are the material choices used in children's dentistry and they are both quite similar in properties. Most recently zirconia crowns have increased in popularity as they are more aesthetically pleasing.  From a strength and durability point of view, research has shown there isn't any difference between the two crowns if placed with good technique. Stainless steel crowns are our traditional crowns and have a long clinical history of over 60 years of use. The great thing about stainless steel crowns is that they have a long history of research and are highly reliable from that perspective. They are silver in colour and are made of nickel, chromium and iron. Zirconia crowns on the other hand are a newer type of crown and is tooth-coloured.
Zirconia crowns are technique sensitive so good moisture control and good placement is required. Our specialists are experienced in placing zirconia crowns with good success rates. They are made of zirconium which is a similar material to titanium. Zirconia crowns are a great option if children have a known nickel allergy as we cannot use stainless steel. Honestly they look great and we frequently have parents asking for these tooth coloured crowns over silver crowns. Other than these main differences, they are both great materials to choose from, and are both great options that are offered to all our patients.
References:
Taran PK, Kaya MS (2018) A comparison of periodontal health in primary molars restored with prefabricated stainless steel and zirconia crowns, Pediatric Dentistry V40, No5, Sept-Oct 1, p334-339
Donly KJ, Sasa I et al (2018) Prospective Randomised clinical trial of primary molar crowns: 24-Months old, Pediatric dentistry, V40, No4, Jul-Aug 18, 253-258
Seminario AL et al (2019) Survival of zirconia crowns in primary maxillary incisors at 12-, 24- and 36- month follow up Pediatric dentistry, V41, No5, Sep-Oct 19, 385-390
https://lucasdentalcare.com.au/wp-content/uploads/2020/05/IMG_2642-scaled.jpg
2560
1920
Annika
https://lucasdentalcare.com.au/wp-content/uploads/2020/04/LDC-Updated-Logo.png
Annika
2020-05-21 22:42:17
2022-08-03 23:17:21
What is a children's dental crown and is there a difference between zirconia and stainless steel crowns?